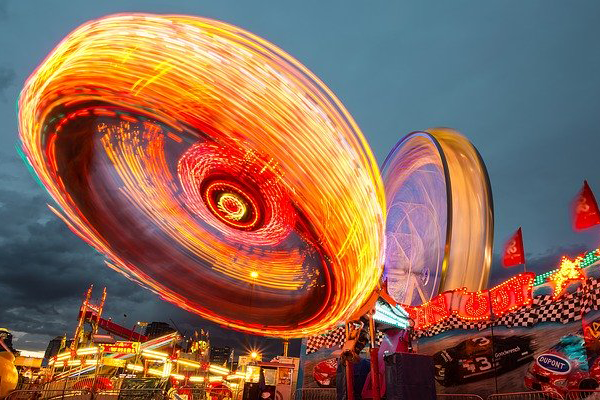 50 Reasons We Love Summer In Minnesota
50 Reasons We Love Summer In Minnesota
After the bitter-cold, never-ending winter, we've finally made it to summer. To celebrate this amazing season when the days get longer and filled with sun, the City Pages staff collected a few of our favorite things to do around the state. Without further ado, here's our love letter to Minnesota summers. Did we miss anything? Leave your favorites in the comments!
50. Every couple of years or so, the Walker Art Center commissions artists, designers, students, and dreamers to create a one-of-a-kind mini golf course straight from imagination to the Minneapolis Sculpture Garden. With a view of the iconic Spoonbridge and Cherry to the downtown skyline, this mini golf course is a hole in one.
49. Let's all agree that even if you like pedal pubs, there's been at least one time when those rowdy beer drinkers screaming at everything under the sun have annoyed you. Why not engage in a little playful heckling? They're all yelling at you anyways, so give 'em a piece of your mind. (Or indulge in your passive aggressive side on thisFacebook group.) Also, exercise and copious amounts of beer on tap at the same time? We'll take our brews ice-cold and on solid ground, thanks.
48. Lions and tigers and bears, oh my! See how the animal kingdom keeps cool during Minnesota's hottest months at the Minnesota Zoo and the Como Zoo.
47. Hanging outside all night is something that's way more pleasant during the summer… and it's even better when you can roam around checking out experimental art installations, nomming on food-truck goods, and exploring the city in a whole new light… or lack thereof at the all-night Northern Spark.
46. Surfing. Yeah, that's right. You can hang 10 in Lake Superior if you can handle the chilly, chilly water.
45. Throw some heavy balls around. Bocce balls, that is! Minneapolis has a ton of parks with space for regular old lawn bowling, and a few are equipped with actual courts. If you fancy yourself a bocce pro, hit up the Nomad World Pub for their annual tournament. Ditto for Brit's Pub if you're into starting a lawn bowling league while sipping Pimm's Cups on their rooftop.
44. Openings at the mountain biking trails popping up all over Minnesota, like the internationally-recognized ones in the 800-acre Cuyuna Country State Recreation Area, abouttwo hours north of the Twin Cities.
43. Disc golf! With great courses like Kaposia, Acorn Park, and the one in Theodore Wirth, getting out and tossing some disc is a fun and cheap way to enjoy summertime.
42. The metro area has dozens of small wildlife reserves that welcome visitors. Take an afternoon stroll through the Lake Harriet Bird Sanctuary, the Wood Lake Nature Center, or the Minnesota Valley National Wildlife Refuge and try to spot some obscure creatures.
41. Minneapolis and St. Paul shut down their streets to motorized vehicles during Open Streets events.
40. After an entire winter of slurping soup and chowing down on rich food, we can't wait to whip out the picnic blanket and chow down outside. From getting a meal to go, grilling food yourself, or just packing some bread and cheese, picnics are a uniquely summertime experience to savor. We recommend this spot for some of the best picnicking in the Twin Cities…
39. The little town of Grand Marais balloons up to 10 times its normal population for the annual Fisherman's Picnic during the first week of August. If you're in the area, it makes for a fun way to get out of the woods and enjoy some good old-fashioned carnival fun on the lake. (Don't forget to indulge in some of the World's Best Donuts while you're there, too.)
38. Unless you're prone to acrophobia, you've got to head up into the clouds at least once in your life on a hot air balloon. Drifting around the St. Croix River Valley is way different in the sky than it is on the water, and boy, is it breathtaking. If you don't want to drive to the border, there are a lot of other placesin the area where you can venture into the atmosphere.