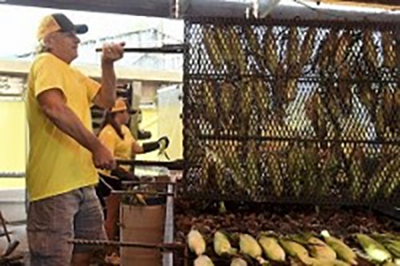 Minnesota State Fair's Corn King Continues His Long Reign
Minnesota State Fair's Corn King Continues His Long Reign
Happy 30th anniversary to Corn Roast, the stand serving sweet corn doused in butter at the Minnesota State Fair. We chatted with owner Brad Ribar, 59, about how his kernel of an idea turned him into the State Fair's corn king.
When you were young, what did you want to be when you grew up? I always knew I wanted to work for myself. When I was really young, maybe 4, I used to gather rubber binders and safety pins and sell them to neighbors. Later, I'd go door to door selling Christmas wreaths. When my brother and I were in high school, we took over a family business selling trees and wreaths wholesale. We sold that business in 2000.
What was your first job in food? My grandfather grew pumpkins so I could sell them on the street in South Minneapolis, where my grandpa lived. He also ran Corn Cabin, which used to be on 32nd Street and Hiawatha Avenue in Minneapolis. It was one of the first drive-in restaurants and served popcorn, caramel corn and root beer.
How did you come up with the idea for Corn Roast? My grandfather worked for the Minnesota State Fair grounds department most of his life. After he retired, he went back and ran the sanitation department. That's how I got started at the Fair. In 1967, I started picking up papers and trash.
My uncle had a beer garden at the Wisconsin State Fair, and I visited him to see how they ran their sanitation services. While there, I saw a roasted sweet corn stand. That was new to me. I tried the corn, and it was so good I turned around and bought another one.