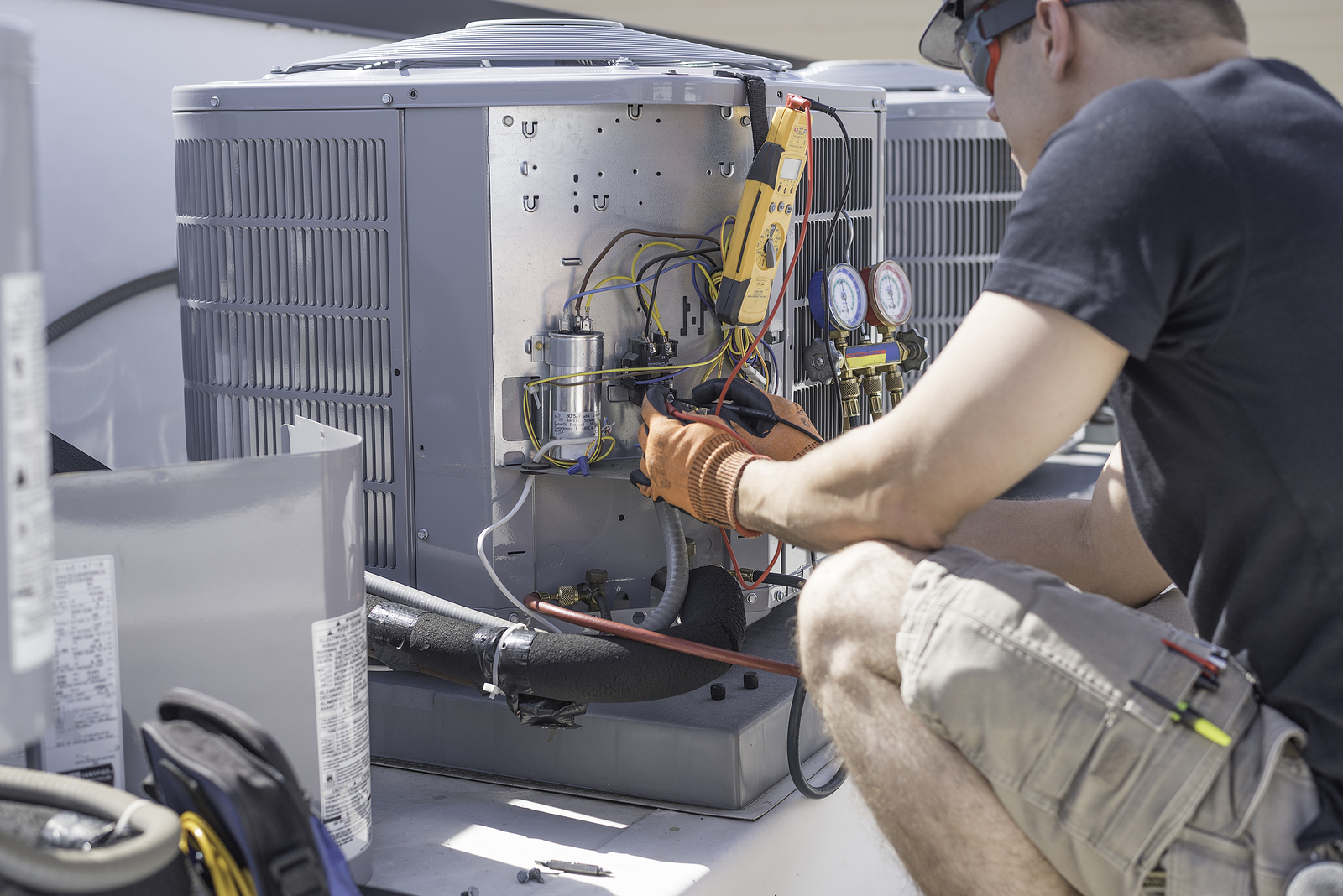 Preparing for a Career in HVAC: What To Know and Steps To Take
Are you curious about what it takes to become an HVAC technician? Or do you have a student who is interested in a career in HVAC? If so, you've come to the right place.
Working as an HVAC technician can offer you a fulfilling career taking care of the systems that keep people comfortable every day. Heating and air conditioning systems are a vital part of maintaining a comfortable and healthy environment for work, play, and everything in between in both residential and commercial settings.
Read on to learn what an HVAC technician does, what the job outlook is, and how to get started on your HVAC career.
What Does an HVAC Technician Do?
HVAC technicians install, repair, and maintain heating and cooling equipment, which can include furnaces, air conditioners, ventilation equipment, climate control systems, refrigeration equipment, and more. Throughout the day-to-day of their jobs, technicians may be required to:
Read blueprints and HVAC equipment specifications
Assemble and install HVAC units, thermostats, humidistats, and timers in residential and commercial buildings
Connect HVAC systems to electrical, water, and fuel sources
Test HVAC components and systems according to the manufacturer's specifications
Test piping or tubing joints for leaks
Inspect, unclog, and clean ducts
Troubleshoot common problems with heating and air conditioning equipment
Maintain HVAC units to keep them in good working order
Clean and replace air filters and other malfunctioning parts
Sell service contracts for HVAC equipment maintenance or servicing
HVAC technicians also work directly with customers, many of whom are experiencing stress because their heating or air conditioning systems aren't working properly. Knowing how to treat customers with respect, patience, and honesty is a crucial part of a successful HVAC career.
Job Outlook for HVAC Technicians
The job outlook for the HVAC field is good. According to the U.S. Bureau of Labor Statistics, the industry is expected to see 5% growth from 2020 to 2030, with an average of about 38,500 job openings each year. This number includes new jobs in the HVAC industry, as well as jobs that open up as workers retire or shift to different occupations. In addition, the U.S. is currently experiencing a significant labor shortage, and the HVAC industry is not immune to that.
If you are considering a career in HVAC, there are plenty of opportunities available.
Steps to a Career in HVAC
While becoming an HVAC technician doesn't require you to obtain a college degree, there are a few requirements you need to meet, as well as additional education and certifications that can help you be more successful in your HVAC career.
Here are the steps to take if you are interested in becoming an HVAC technician:
Get a High School Diploma or Equivalent. Most states require a high school diploma or GED to pursue a job in HVAC. If you are still in high school or working toward your GED degree, try to take courses that focus on relevant subjects, like computer science, physics, math, or shop classes.
Take Classes for Your HVAC Certificate. While there is no federal requirement for HVAC certification, many states do require technicians to be certified. (Even if your state doesn't require it, a certificate helps you appear more reputable to potential customers.) Classes for an HVAC certificate take less than a year and include training in diagnostics, testing equipment and tools, and principles of mechanics, electronics, and electricity.
Complete an Apprenticeship. An apprenticeship is not a requirement for a job in HVAC, but it can help you gain on-the-job training and experience that will make you more attractive to potential employers. Apprenticeships can last anywhere from three to five years, and involve a combination of coursework and practical training.
Work Toward Additional Licenses and Certifications. There are a number of certifications you can obtain to increase your knowledge and skills and give potential customers confidence in your abilities. One is the NATE (North American Technician Excellence) Certification. Passing NATE's Ready to Work certification indicates you have demonstrated the foundational job knowledge and skills for an entry-level technician. The exams for this certification test your knowledge of HVAC systems as well as your professional competency. If you plan to work with refrigerants, you should also consider the EPA 608 certification. There are also certifications available for specific systems, including commercial furnaces, residential boilers, and metal fabrication.
Develop Your Customer Service Skills As an HVAC technician, you will work directly with customers, so it's vital to have excellent communication and customer service skills. In fact, good people skills are just as important to a successful HVAC career as technical skills and training are. Work to develop these skills through a part-time customer-facing job, community service work, or another avenue where you can work with people.
If becoming an HVAC technician is your goal, start taking these steps today. With a little hard work and perseverance, a successful and fulfilling career in HVAC can be yours.
Curious what a day in the life of an HVAC technician looks like? Contact the team at Titan Heating and Cooling to learn more about what it's like to work as an HVAC technician, and read through our blog to see some of the ways we help our customers stay comfortable every day.