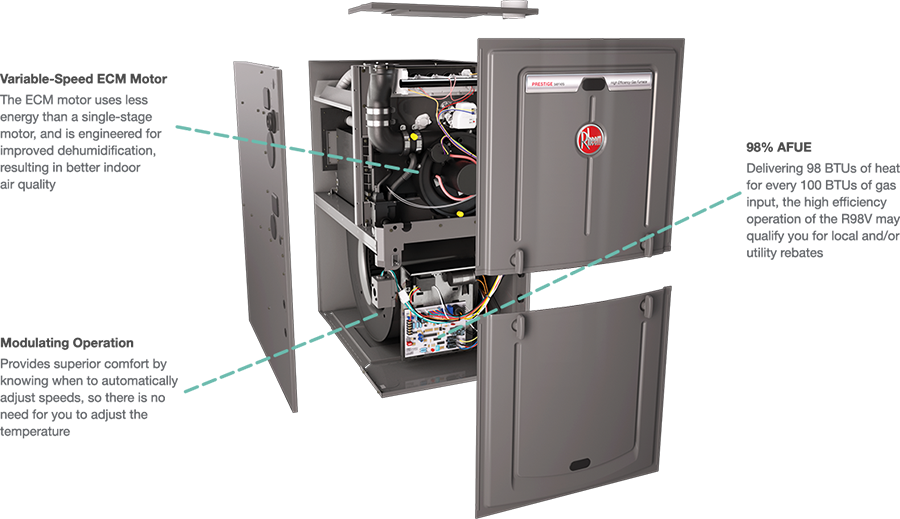 Advantages Of Modulating Variable Speed Furnaces
Advantages Of Modulating Variable Speed Furnaces
Modulating variable speed furnaces are becoming increasingly popular in Minnesota and there's a good reason why. Investing in this "new" technology can provide many advantages including increased comfort and efficiency, less noise, and tons of savings on your energy bills.
A single-stage furnace has two options – off and on. So when your temperatures are below your desired setpoint, it will work at 100% power to adjust, ultimately increasing your energy consumption and bills. A two-stage furnace has three options including off, 100% capacity (full speed), and 50% capacity, which allows a little more room for efficiency. But with a modulating furnace, its speed will vary based on what your home comfort demands. Not only will a modulating variable speed furnace efficiently heat up your home at lower costs, but it has a more quiet operation, provides summer comfort and savings due to its low speeds, and improved air humidity control and air filtration.
Rheem modulating variable speed furnaces is a powerful addition to your home heating that can deliver more comfort than any single speed furnace with Variable-speed ECM motor, Modulating operation, 98% AFUE, and more.
Invest in modulating variable speed furnaces and invest in long-term savings. Titan's can help with your modulating variable speed furnace installations or help determine the correct furnace type for your home's size and needs. Call us today at (651) 714-8931 and make sure you're optimizing your comfort and savings this winter!